by Wendy
This year's Double-11 Shopping Festival kicked off at midnight on Nov 10, 2020. By 00:30 on November 11, the total gross merchandise volume (GMV) of the 11-day campaign had surpassed 372.3 billion yuan ($56.3 billion), according to Alibaba.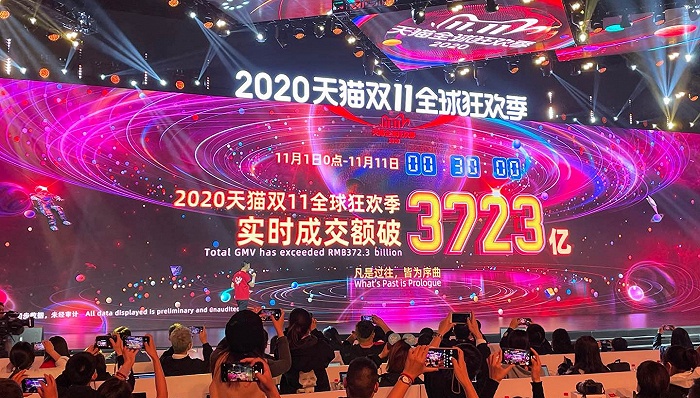 The Double-11 Shopping Festival was first initiated in 2009 by Alibaba, and soon became a major yearly shopping carnival with participation from almost all of China's e-commerce platforms, including Alibaba, JD, Pinduoduo, etc. More than that, in fact, real shops participate too all over the China. 
In Singapore, it also becomes a carnival day on e-commerce platforms such as Lazada, Shopee, Qoo10 and so on.
As the largest online shopping extravaganza in China, what is different this year is more livestream sales, featuring fast-talking hosts and celebrities. The livestreaming platforms have become one of the most effective marketing tools, especially since the outbreak of Covid-19. 
While most livestreaming platforms in the West are focused on gaming and entertainment, livestreaming is becoming a go-to option for Chinese consumers seeking new products and discounts.
In Taobao, there are more than 4,000 livestream hosts who generate 150,000 hours of content offering upwards of 600,000 products on a daily basis in 2019.
Taobao's star anchors Viya and Li Jiaqi have already chosen the hot cosmetics they'll have on sale. In 2019, these 2 stars surpassed 20 billion yuan($2.85 billion) within 24 hours of Nov 11.
In 2020, Taobao has made sure its livestreamers have access to a larger number of products this year and is offering bonuses to those who do especially well.
In addition to Alibaba, e-commerce platforms like Vip.com and short video apps such as ByteDance's Douyin and Kuaishou are also leveraging live-streaming to power their e-commerce businesses.
The spike in sales from livestream e-commerce during China's biggest online shopping festival highlights the rise of content-driven e-commerce in the country. From celebrities to top brand executives to farmers, livestreamers themselves are becoming more diverse.